How To Choose a New Water Heater
August 5, 2021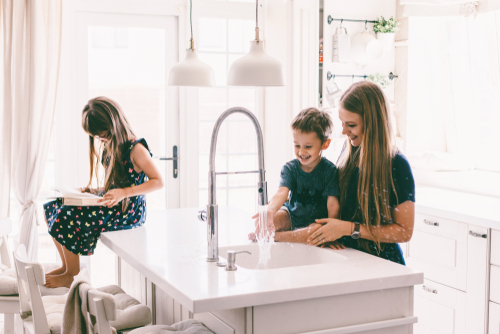 Water heaters provide a fast, effective way to get hot water to your taps and appliances. Choosing a new water heater is important, considering that they account for nearly one-fifth of a monthly energy bill in most households!
In this guide, we'll walk you through some considerations when choosing a new water heater – and some of the pros and cons of the three most popular water heater options.
Water Heater Considerations
When deciding which of the different types of hot water heaters will work best for your home, there are many things to consider.
Type of water heater – There are many types of water heaters available today, including conventional, tankless, and indirect water heaters. Learn more about the pros and cons of each below.
Fuel Type – Water heaters can run on electricity, gas, oil, or a combination of these fuels. When shopping for a new water heater, consider whether switching fuel types might save you more in the long run.
Use – The way you intend to use your water heater – and where you plan to install it – have a big impact on how large the unit should be, whether you need multiple units, and more.
Capacity – Capacity is all about being sure your hot water heater can meet the needs of your home. Conventional storage-type water heaters typically have a capacity ranging from 20 to 80 gallons. A 40- to 50-gallon tank is typically sufficient for an average household of 2 to 3 people; add 10 gallons per person for larger families. In a tankless water heater, the capacity is measured by flow rate – a value given in gallons per minute. To determine the right capacity for your water heater, you need to know your peak usage – how much you may need to use in your "worst case" scenario.
Lifespan– The average lifespan of a conventional water heater 10 to 12 years; for tankless models, that number jumps to 18-20 years.
Warranty – Warranties vary by manufacturer and model; be sure you have all appropriate warranty information when making decisions about your model.
Efficiency – Water heating accounts for about 18 percent of home energy use, so making a smart decision about efficiency is important! Tankless water heaters can save you money by operating only on demand, and indirect water heaters can heat your water virtually free during the winter. See more about these options below.
Three Common Types of Water Heaters: Pros and Cons
1. Conventional/Storage
A conventional water heater stores hot water until needed, then releases it through your plumbing pipes. It can be fueled by gas, oil, electricity, or some combination. The average tank water heater will last between 10 and 12 years and have capacities between 20 and 80 gallons.
Pros:
Easier to maintain and repair
Lower up-front cost than tankless water heaters
Easy to replace
Cons:
Uses more energy than other types of water heaters; in cold weather, energy consumption increases
Requires a large space inside the home
Can flood if the tank fails
2. Tankless
Also called on-demand water heaters, tankless models instantly heat water rather than storing hot water for later use. Typically powered by gas, tankless water heaters can produce virtually unlimited hot water. They are classified by flow-rate – the gallons per minute of hot water they provide – and typically last about 18 to 20 years.
Pros:
Requires less space to install
Can be wall mounted.
Heats water on demand; hot supply is steady.
Saves on energy bills.
Cons:
Greater upfront cost
May require upgraded electrical systems in older homes
Larger homes may require more than one unit
3. Indirect water heaters
An indirect water heater uses heat generated by your boiler or furnace to heat water. Heated water is then stored in a tank until it's needed, just like a conventional water heater.
By operating this way, an indirect water heater essentially provides free hot water you're your heating system is running.
Pros:
Economical operation, especially in winter
Fewer parts to maintain (one burner for space and water heating vs. two).
Faster recovery rates (due to high Btu output of the furnace or boiler as a heat source)
Greater durability (due to low thermal stress)
Considering a water heater installation in Greater Springfield, MA? Now is the perfect time, with Mass Save incentives that could save you up to $800! Contact us today to learn more – or to talk about additional savings on Rinnai Tankless installations that could save you even more!
---