Propane Hearth Products to Warm Up Your Home
October 11, 2021
Cozy Up to a Fire—Without the Hassle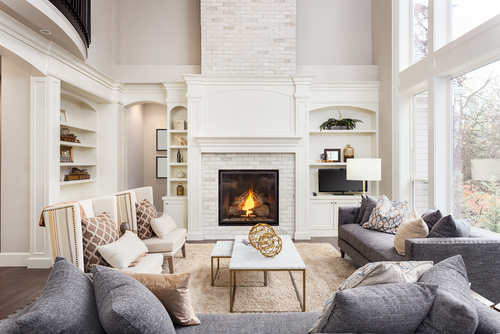 Nothing adds more cozy charm to a room than a crackling fire. But there's nothing charming about the mess, smoke, and ash of a wood-burning fireplace. Propane-fueled fireplaces add ambiance—and also provide efficient supplemental heat without the hassle. And a gas log or gas stove is much safer. No more playing with matches and waiting for tricky kindling to catch—you can turn on and adjust the flame with a wall switch or even a remote control, and turn it off when you are done instead of waiting for embers to burn out.
At FSi Oil & Propane, we've got a great selection of options of propane-powered hearth products for every style and room, even outdoors!
Quick and Easy Installation; Endless Warmth and Style
Adding a propane fireplace or freestanding cast-iron stove is a fraction of the cost of installing or maintaining a wood-burning stove or fireplace, and it can be installed in a single day. With direct vent and vent-free technology, there's no need for a chimney. That means you can incorporate the ambiance and warmth into virtually any room, including living rooms and family rooms, but also kitchens and dining rooms. Create your dream master suite or a spa-like bathroom escape, just by adding a gas fireplace! You can also convert traditional fireplaces to maintenance-free propane hearths with a gas insert.
Need something more utilitarian? We have a range of Propane space heaters from Rinnai that deliver you steady, affordable warmth for hard-to-heat spaces like sunrooms, basements, and attics.
Outdoor propane heaters extend the season
Don't let cooler weather prevent you from enjoying your backyard or patio. FSi has a great selection of outdoor fireplaces to help you enjoy crisp, clear autumn evenings, and grill boxes to eliminate the bother of refilling a propane cylinder. We also have propane pool heaters to let you stretch out the summer.
Our expert team can answer all your questions and help ensure sure you have the right propane hearth product for your home in terms of size, style, venting, safety, and local codes.
Contact us today to learn how we can help you add a propane fireplace or freestanding stove to your greater Springfield area home.
---