Ductless Mini-Splits: A Flexible Heating And Cooling Solution
June 10, 2020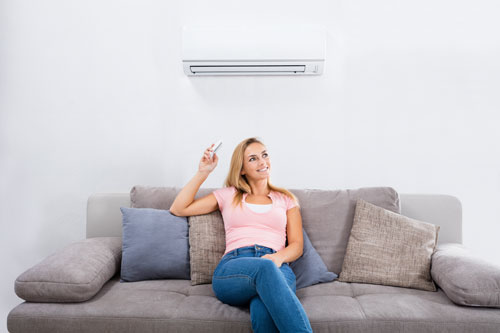 You've probably seen mini-split heat pump system before – perhaps in a restaurant or store, tucked in the corner or high in a doorway.
What you definitely did not do is hear that mini-split.
That's because mini-splits (also called ductless systems) are among the quietest heating/cooling systems around – a big advantage over window units in a living space.
But that's just one of benefits that mini-split heat pump systems offer compared other heating and cooling systems.
Ductless heat pump systems are:
Easy to install – Ductless systems can be installed quickly and cost effectively just about anywhere in your house, including in new home additions and rooms with no windows. All it takes is a narrow pipe to connect your indoor wall unit to your outdoor heat pump, requiring a three inch hole through an external wall.
Flexible – Several indoor wall units can be operated from a single outdoor unit, giving you the ability to size match your system to the heating or cooling load of each room and provide a cost-efficient whole-house solution.
Healthier – Since there are no ducts in a mini-split system, harmful microorganisms and other allergens can't grow and thrive – a big advantage for your health, especially in homes where people suffer from respiratory ailments.
Unobtrusive – In addition to being whisper quiet, a mini-split won't take away your window view, or be an eyesore in your living space. Most can be tucked on a back wall or above important sight lines in your room.
If you own an older home in Massachusetts that has no duct work, mini-split systems are a no-brainer update to window cooling systems and portable space heaters. Most installations take a day or two and can be custom designed to meet the needs of your space and budget.
Summer is almost here, and you'll be home more than usual in the coming months – if you want to keep your bills low while staying as comfortable as possible, consider upgrading your window air conditioners to a multi-function ductless mini-split heat pump from FSi.
Contact us today to discuss ductless mini-split installations in MA and to get a FREE, no-obligation estimate from our cooling pros!
---