What Is A Propane Gas Log Set?
November 17, 2020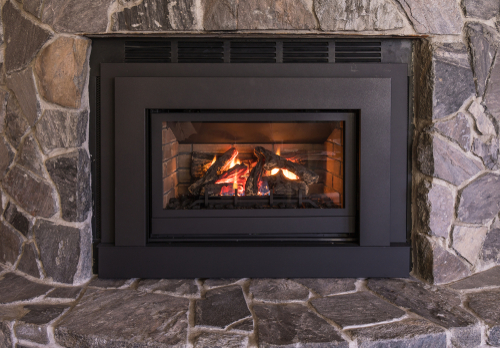 Everyone loves the hypnotic glow of a home hearth. The problem – at least if you have a traditional wood burning fireplace – is how much effort it takes to get just a few hours of relaxation. But what if you could enjoy that same relaxing, hypnotic glow with just the click of a remote?
With propane gas logs, you can.
Propane Gas Log Basics And Benefits
A propane gas log set is basically a decorative appliance that gets installed within your existing fireplace mantle.
In vented gas log sets, which burn hotter with a higher flame, exhaust is emitted outside your home through a vent pipe or flue; in a vent-free model, flames are smaller, which means that exhaust emissions are significantly less (vent-free gas log sets are usually used to create ambiance rather than heat).
Why choose a propane gas log set? Consider these great benefits:
Simplicity – With gas logs, you get the roaring fire without the chopping, splinters, and ash. Just push a button on a remote and your fire is up and ready to go.
Beauty – Today's realistic hand-painted logs are a thing of beauty – a far cry yesterday's obviously artificial models. Choose from a variety of looks that mimic oak, birch, and more.
Safety – With gas logs, you'll have no more flying sparks, rolling logs, or dangerous creosote buildup in your chimney. If properly cared for, low-maintenance gas logs are a very safe way to add additional heat to your home
Savings – Running a gas log set is a significantly more efficient option than burning wood, so your bills will be lower for the same number of hours of operation. You'll also eliminate chimney cleaning, saving even more money.
Eco benefits – Compared to wood burning, clean-burning propane emits far fewer particulates and less CO2 – good for your health, good for the planet.
Not using your fireplace as often as you'd like to because of set up and cleanup hassles? A set of propane gas logs could be just what you need. Contact FSi today to get a FREE, no obligation estimate on vented and vent-free propane fireplace installations in western MA!
---