Stay Sane With Propane This Summer!
July 20, 2020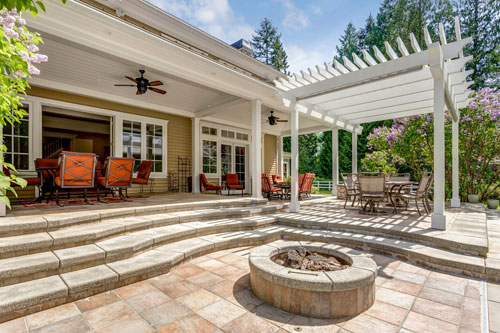 We all need more time outside this summer, but with uncertainty still in the air about gathering on beaches and in other public spaces, we probably need a new spot to retreat to for some R & R.
Why not create that spot in your own back yard?
Propane: Your outdoor fun fuel
With a little help from propane gas, you could have an outdoor getaway space that your family loves to lounge in. Appoint your yard with the little luxuries you love – powered by one of the safest fuels around.
Consider these propane outdoor living possibilities:
Kitchen – Imagine all the benefits of an indoor kitchen, but with fresh air and sunshine (or moonlight!). Outdoor kitchens can include a propane grill or cooktop, oven, and rotisserie for preparing any meal.
Propane patio heaters – A propane patio heater can deliver heat up to 20 feet away, raising the temperature on your patio, porch, or pergola by up to 30 degrees.
Propane pool and spa heaters – A propane pool heater will heat your pool or spa faster and more efficiently than electric units, especially once the temperature falls below 70 degrees. Swim any time of day, and even into September!
Propane fire pits and fire tables – Get a cozy fire under the stars in your own backyard at the flick of a switch, without the smoke, soot, and ash hassles of a wood fire.
Propane lighting – From tiki torches to modern fixtures, propane lighting adds an accent to any outdoor space – without the wires.
Propane mosquito magnets – Keep the bloodsuckers away without the noxious smells or obnoxious sounds of sprays and zappers (curious how a mosquito magnet works? Here's a video).
Power your outdoor fun with propane – delivered when and where you need it from the pros at FSi. Contact us today to learn more about propane delivery in western MA!
---